Feed My Starving Children MobilePack
September 22-26, 2021
It's time for Gateway to host its sixth annual
Feed My Starving Children
MobilePack event! After our 2020 MobilePack went completely virtual, we're so excited to be together again to feed as many kids as possible.
We will help our
global
neighbors by funding and packing FMSC meals, as well as our
local
neighbors by asking MobilePack volunteers to donate nonperishable items to
Gateway's Operation Storehouse
.
Help promote our event
within your communities by
downloading these flyers
:
Registration opens
August 15
for our Gateway family and we will be collecting paper registration forms (download below) for individuals and teams in the Cross Section on
August 15, 22 and 25.
There will be
childcare
for the Wednesday and Sunday shifts. Registration will open to the public on
August 26
at
give.fmsc.org/gateway
. For more details about registration for individuals and team, download the document below.
It's not too early to start thinking about who you'll bring along for our MobilePack. As we'll be limited to 14 tables of up to 10 volunteers per shift, it will be important to have your team together as soon as registration opens. There are 14 planned packing shifts: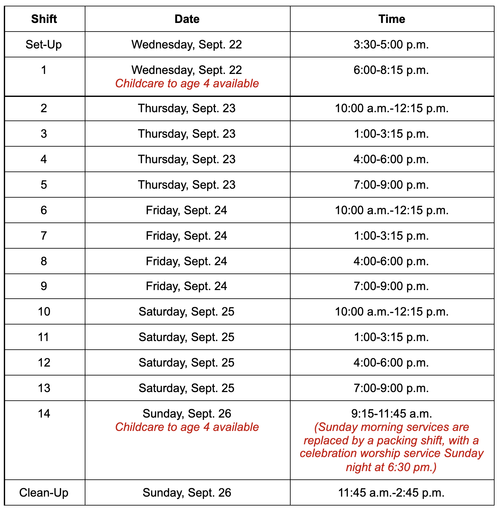 SAFETY PROTOCOLS IN PLACE
If you've packed with us before, this year's pack will look different - for instance, we will have physical distancing protocols in place and fewer volunteers per shift - but we are excited to get together to feed more children once again. We appreciate your flexibility as we navigate these changes. More information will be available at registration.
HELP US FEED MORE CHILDREN
If you'd like to partner with us financially to help us feed as many kids as possible, our donation page is open at give.fmsc.org/gateway. Here, you can also set up a personalized donation page if you'd like to raise funds as a team or individual. Download the detailed instructions in the PDF below.
By getting involved, you can be a part of Gateway's growing history with FMSC:
For more information on how FMSC has continued to feed as many children as possible through this pandemic, check out their latest fiscal report in the PDF below.
We are excited to see you at this year's MobilePack! Reach out to Jenni Biggs at
gccfmsc@gmail.com
with any questions or to help our core team plan the MobilePack.